A camping table is a small, portable table that can be used for various camping purposes. Camping tables help prepare and eat meals, play games, and place items while camping on a surface.
Camping tables come in various sizes and styles to suit the needs of different campers. Some camping tables are folding tables that can be easily transported and set up.
In contrast, others are fixed tables that are sturdy and stable. Various materials are used to make camping tables, including aluminium, plastic, wood, and composite materials.
Camping tables have one purpose: to make your life easier when roughing it in the great outdoors.
Sure, you could plop your food down on the ground, but where's that fun?
A camping table gives you a designated spot to set up your camp kitchen, play some cards or board games, or even enjoy a romantic candlelit dinner under the stars.
Plus, most camping tables are lightweight and easy to transport, so they won't add too much bulk to your whole pack.
So if you're looking for a little additional convenience on your next camping trip, consider investing in a camping table. And this article on the type of camping tables will help you a lot.

So. let's get started.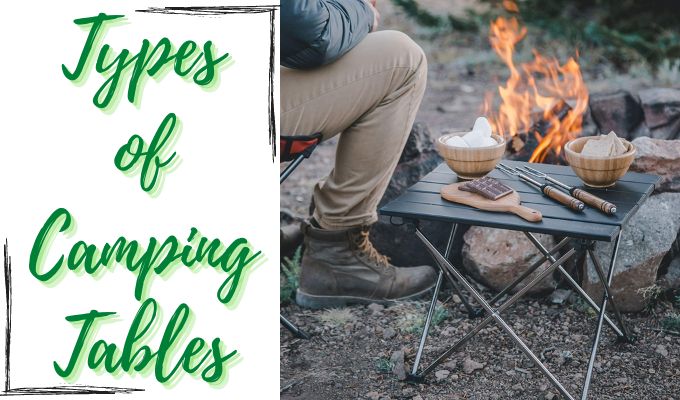 8 Types of Camping Tables for Cooking and Eating Outdoor
1. Folding Camping Table
Folding camping tables come in various shapes and sizes, but they all have one thing in common: they fold up for easy transport and storage.
One of the most popular folding camping tables is the rectangular table. These tables are great for meal times, as they provide plenty of space for everyone to sit around and eat. They can also be used for games or other activities.
Another type of folding table is the square or round table. These tables are perfect for smaller groups, as they take up less space than a rectangular table.
They're also great for setting up a buffet-style meal, as everyone can quickly reach all of the food.
Finally, there are folding camping chairs that have a built-in table.
2. Picnic Camping Table
One type of camping table is the folding picnic table. This table is perfect for picnics or days at the beach, as it can be easily transported and set up.
The table typically has four legs and a tabletop made of plastic or metal. Another type of camping table is the roll-up picnic table.
This table is also easy to transport and set up, as it can be rolled up and carried like a mat. The roll-up picnic table typically has a metal frame with a PVC or nylon top.
3. Wooden Camping Table
Wooden camping tables are an essential piece of equipment for any campsite. They provide a flat surface for cooking, eating, and working on projects.
Many different designs are available, from simple folding tables to more elaborate models with built-in storage and shelving.
When choosing a wooden camping table, consider how often it will be used. For instance, if you plan to do a lot of cooking at your campsite, look for a model with a built-in stove or grill.
Choose a table with shelves or drawers if you need extra storage space. And if you have young children, be sure to select a table that is sturdy and safe to use.
With so many different wooden camping tables available, one is sure to be one that satisfies your needs and suits your budget. So get out there and start relishing the outdoors!
4. Aluminum Camping Table
Aluminium camping tables are an excellent option for those looking for a durable, lightweight table. These tables are straightforward to set up and take down, making them perfect for camping trips.
Aluminium camping tables come in various sizes and shapes to find the perfect one for your needs. Whether you need a small table for two or a large one for the whole family, an aluminium camping table will suit your needs.
5. Side Camping Table
A side camping table is an excellent option for those who want a little more space and storage than a traditional camping table offers.
These tables typically have one or two shelves and a few drawers, making them perfect for storing all of your camping gear in one place.
Side camping tables are also usually made of sturdy materials, such as aluminum or steel which means they can resist the elements better than other camping tables.
6. Coffee Camping Table
When it comes to coffee tables, there are many different types that you can choose from. If you're looking for a coffee table for your campsite, you'll want to consider a coffee camping table.
These tables are specifically designed for use at a camp, and they offer several benefits that other types of coffee tables don't.
One benefit of a coffee camping table is that they're typically relatively small and lightweight. This makes them easy to ferry to and from your campsite, and it also means that they won't take up too much area at your camp.
Additionally, most coffee camping tables have legs that fold up, so you can easily pack them away when not in use.
Another benefit of coffee camping tables is that they're usually made from durable materials that can withstand the elements.
7. Camping Kitchen Table
It would be satisfactory if you had a sturdy table to place your kitchen items when camping. There are many different camping kitchen tables available, so choosing the one that best suits your needs is essential.
One type of camping kitchen table is the folding table. Folding tables are great because they're easy to set up and take down and don't take up much space when not in use.
They're also relatively affordable, making them a good option for budget-minded campers.
Another type of camping kitchen table is the roll-up table. Roll-up tables are similar to folding in that they're easy to set up and take down, but they're even more compact when stored. That makes them a good choice for campers short on storage space.
8. Camping Card Table
Regarding camping, having a good table can make all the difference. After all, where are you going to put your food? Your maps? Your games? A camp table is essential for any serious camper.
There are many camp tables on the market, but one of the most popular is the card table. Card tables are typically lightweight and easy to set up, making them ideal for camping.
They also have a lot of surface area so that you can use them for various activities. If you're looking for a camp table that's versatile and easy to use, a card table is a great option.
How to Choose an Ideal Camping Table for an Outdoor Camping Trip
When planning a camping trip, one important factor to consider is what type of table you will need for your campsite. There are many camping tables available on the market, so choosing one that best suits your needs is essential.
Here are a few important hints to help you in choosing the ideal camping table for your next outdoor adventure:
First, consider the size of your campsite and the number of people using the table. If you have a large camp, you will need a larger table to accommodate everyone.
Conversely, if you have a small campsite or only a few people using the table, you can opt for a smaller size.
Next, consider what activities you will be doing at your campsite and how the table will be used.
Conclusion: Which Type of Camping Table is Right for You?
To decide which type of camping table is right for you, it is essential to consider what you will be using the table for. If you plan on using the table for cooking, then a table with a built-in stove or grill would be ideal.
A basic folding table will suffice if you need a place to eat and socialize. Another thing to regard is how much space you have on your campsite.
If you have a large camp, a more oversized table would be fine, but a smaller table would be better if space is limited.
Ultimately, it all comes down to personal preference and what will make your camping experience more enjoyable.
You May Also Read: